Home » Shooting Days » What gear?

New to digital photography, or wanting to "upgrade" your stuff? The Shooting days are an opportunity to test new gear, to learn new techniques, to use studio lighting,...

It's important to know that expensive gear doesn't make a good photographer. The stuff that you will need as photographer working with models is quite limited. I looked at pictures taken some 10 years ago, and quite frankly, you can't see the difference with a picture taken some weeks ago with a brand new Canon 5D MkIII (seen in normal conditions: printed on a sheet of paper or displayed on a monitor). Photography is not about counting the pixels.

A picture that i took 10 years ago just looks perfect, when i apply some Photoshop filters (in those 10 years, i've learn to use Photoshop to enhance my pictures).

When i began as photographer, i have always chosen the best material. That was quite easy for me, as i worked in a shop and had all the gear at my disposal. I didn't buy the most expensive stuff, but the equipment that was best suited.
Canon EOS 5D Mk III
Some 10 years ago, i went for Canon, not because it was better than Nikon (that was the only alternative at that time), but because other photographers used Canon and so i was able to test other lenses and bodies. Before i switched to a digital SLR, i used Nikon Coolpixes: 950, 990,... These digital cameras worked quite good, and i bought a 3× teleconverter lens that could be used on all the models of the 950- serie.

The Canon 5D Mk III was chosen because of it's low light capabilities, making it possible do do fotoshoots in relatively low light without having to resort to a tripod (i own one, but i don't use it for model photography). The 5D with it's full frame sensor needs EF-lenses, not EF-S lenses (those can only be used on bodies with a crop sensor).
Lenses
I only use three lenses for model photography:
a Canon EF 24-105 ƒ/4 IS L USM for indoor shootings or when the space is limited (replaced with a Sigma 24-105 ƒ/4 OS HSM),
a EF 70-200 ƒ/2;8 L USM for outdoor and a
Sigma 50 ƒ/1.4 EX for low light photography: this lens is better than the Canon equivalents in low light photography.
Of course i have other lenses for specific applications, but i don't need them for model photography. Just keep it simple, the models are important, not your gear.

Both lenses are L-grade (and EX-grade for Sigma). These lenses are not only the best lenses, but are also more sturdy than regular ones. But remember: even the most expensive lenses wear out: the individual optical elements loose their precise adjustment and there is dust that enters the optical system. Compared to a new lens, an used lens gives you a slightly blurred image (misadjustment) and a slight lack of contast (dust inside). But the lenses are still top notch compared to the basic lenses.

When i worked with a crop sensor body (Canon 50D), i used the Sigma 50-150 ƒ/2.8 EX APO for outdoor portraits. Optically, it's quite comparable to the EF 70-200, but it's designed specifically for the bodies with crop sensor. The lens has the same light gathering capacity as the EF 70-200 ƒ/2.8 but the weight and size of the EF 70-200 ƒ/4. It's one of the best Sigma lenses. On this body, i also used the EF 24-105.
Flashes
I use different sorts of flashes. I don't use them to give light, but to enhance the available light. For instance when shooting outdoor and there is no sunlight, the resulting images lack some colors. When i use a flash, i provide the missing colors and make the model pop up against the background. There is always a softbox on the flash. I check that there is no shadow behind the model.

The remote trigger i use is from Pocket Wizard and allows me to control the flash as if it was mounted directly on the body.

I also use studio flashes. You don't need strong flashes: i only need a total power of 500J for a group shooting. Models don't like high intensity flashes. Just use high apertures lenses and the models will be happy to work with you in the studio (this will also fade the background).
Shooting Days
The Shooting Days are also an opportunity to learn new techniques, to try out new lenses, to work with studio lighting, to use remote flashes, and so on. There is always a computer available to check the pictures. The Shooting days are a collaborative event, and this mean that the photographers present can share their experience.
Photographic gear used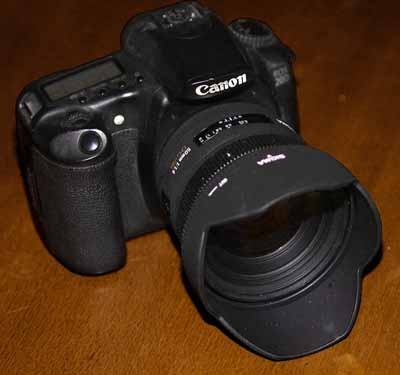 Sigma 50 ƒ1.4 HSM

Basic studio setting with
one softbox (key light) and
one small dish (general light source to remove shadows)